We have rooms for all kinds of needs, I am pretty sure there is one that will fit you perfectly:
You want to come with your family, parents or kids ?? Private rooms that can accommodate 1 to 4 people are perfect for you.
You want to come with a small group of friends ?? A quadruple private is hands down your best choice.
You are a girl and you are old school, or have a jealous boyfriend or just want to feel more comfortable among 'sisters', we have a very nice 6-people girls only room 🙂
You are the poorest guy on earth ?? Don't worry, we have a 10-bed dorm that is pretty cheap and still has all our free services.
You do not want to deal with lots of people but do not have the money to pay a private ?? our 3-people mixed dorm is almost like a private room.
You want the best cost/benefit, not a private, but not an overcrowded mixed dorm ?? We have 6 and 8 people dorms.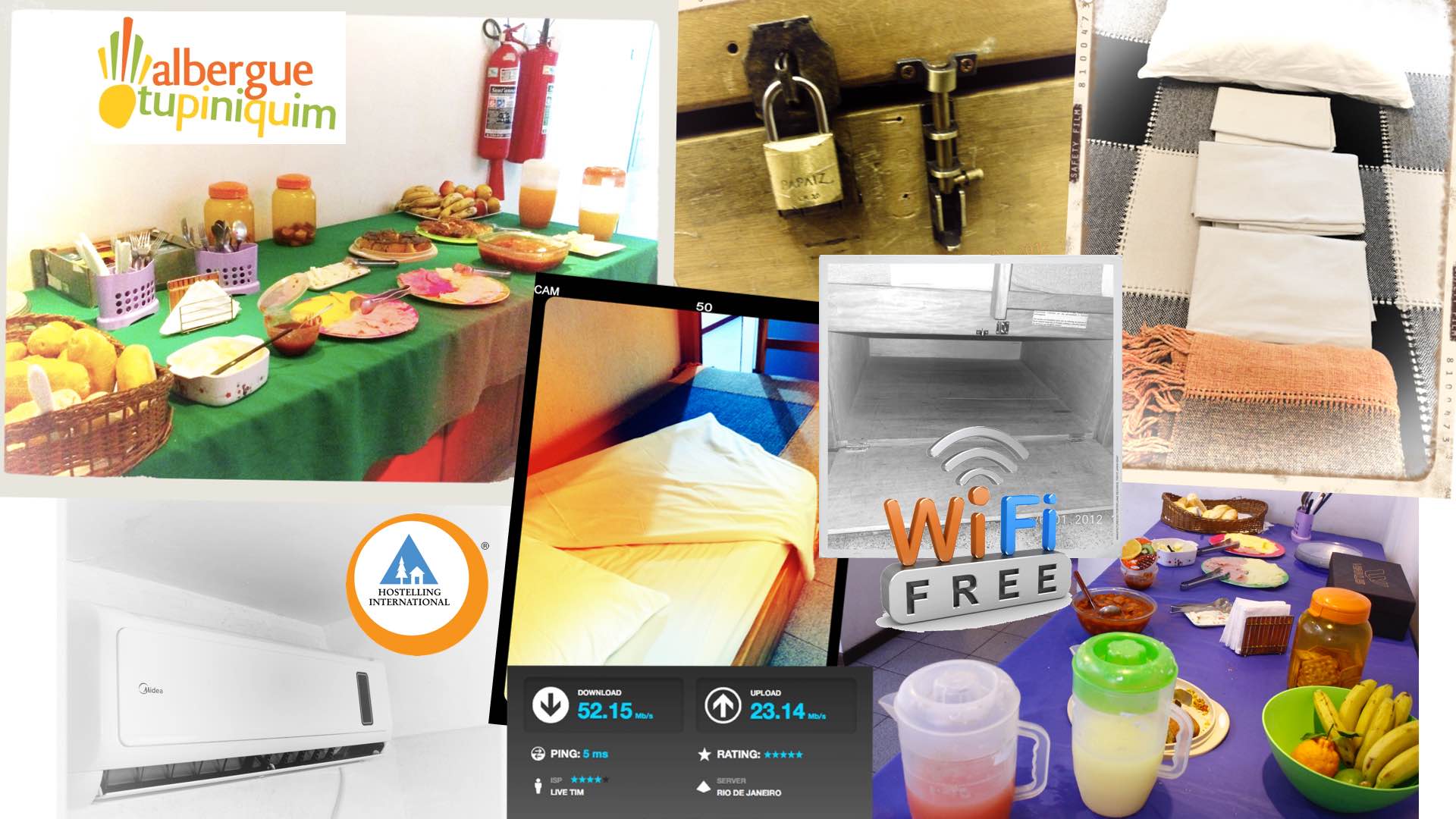 All our rooms (except for two 6-people shared bathroom dorms) have their own bathroom inside the room (hence ensuite) and include the following facilities free of charge:
Air Conditioning

from 8 p.m. to 10 a.m. (full day costs an extra R$ 20)

Wi-Fi

all over the hostel, also within the rooms: 50 Mbps speed.
Linen included: pillow with pillowcase, 2 bedsheets and a blanket.
Security lockers big enough for your backpacks (1 m x 1 m x 0.5 meters each)
Solid-wood double bunks with plenty of space (1 meter) between each bed … I said double and not triple bunks 🙂
17 cm high and 120 kg resistant, comfortable, mattresses (not those cheap and dirty ones you get in many hostels)
Besides that we have many other services, most of them for free:
24 hour Reception
Continental breakfast, Brazilian style, from 8 a.m. to 10 a.m. for R$ 12 (aprox. US$ 4)
Multi-lingual staff: Portuguese, English, Spanish, French, Italian, Hebrew.
Free Pool Table & Bar service, open 24/7: water, soda, beer, whisky, caipirinha, etc …
Open terrace with a view of the Christ the Redeemer Statue open from 7 a.m. 'till 10 p.m.
Dinner service from 7 p.m. 'till 10 p.m. for R$ 20 (aprox. US$ 5), regional Brazilian food, self-service style.
Open kitchen for our guests to prepare their own food (except for the fridge)
TV room with a massive 54" screen, full cable TV (HBO, Telecine, Cinemax, etc …), Netflix and a selection of more than 1200 selected films, all of this for free …
We have a place for you to wash your clothes by hand and dry them.
Rent (R$ 1 per day) or buy (R$ 15) a 30 mm padlock to use in our lockers.
Luggage storage room (in case you have already checked out and want/need to hang around)
Lots of the most popular board games such as: chess, backgammon, checkers, risk, domino, cards, etc …
Multicultural library for all your reading needs.
All the travel info you might possibly need, tours as well.
Car parking (third party) available near the hostel.
Taxes included.
No minimum or maximum stay (except for New Year's Eve, Carnival or Olympic Games)
No lockout or curfew.